Do you know someone recently deployed to Iraq/Afghanistan? Were they exposed to a blast or explosion that left them briefly dazed or confused? Did they say that their "bell was rung" by this event or events?
Have you noticed any of the following?
Complaints of persistent headaches and/or neck pains
Experience unusual forgetfulness or is easily distracted
Complaints of dizziness, loss of balance or ringing in the ears
Has unexplained sadness or anger, or mood changes that occur without an emotional trigger
Blurred vision or unusual sensitivity to light or sound
Slurred speech
Difficulty completing tasks that require concentration, organization, or decision making
Changes in sleep patterns or complaints of unusual fatigue
Is that someone a battle buddy, a spouse, a friend, a brother or sister, or YOU? If so, they may have experienced a mild traumatic brain injury (TBI). A mild traumatic brain injury will often not leave visible wounds; but is very real. These symptoms may be temporary; but for some they may be prolonged or even life-long.
KDVA Field Benefit Representatives
Hover over the Counties for more field representative information.
Denotes VBFR home office
Denotes VBFR out-station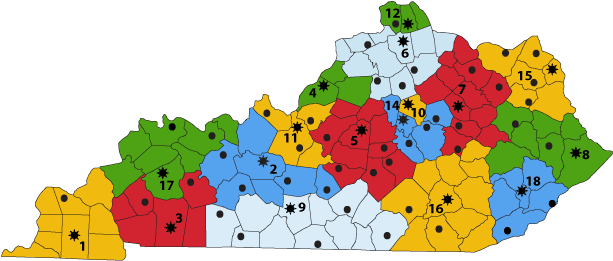 Military and Non-Profit Sites
Brain Injury Sites
Department of Veterans Affairs
The BIAK/Military TBI Resource Journal serves as a reference guide for those that may have suffered a Traumatic Brain Injury, those that care for the injured, their families, loved ones, and professionals that need some additional insight on "The Signature Wound." This journal includes stories of survivors of TBI, helpful tools for everyday life, and how to deal with difficult family issues that may arise. This resource journal was written by TBI survivors, medical experts in the field, chaplains that served in Iraq and/or Afghanistan, and caregivers of TBI survivors. It includes an extensive glossary that defines terms that are associated with brain injuries as well as numerous "other resources, websites, etc". It is written for those that want answers about Traumatic Brain Injuries, where to get help and who to call.
The Brain Injury Alliance of Kentucky (BIAK) seeks to help these soldiers and their families in the following ways:
Confidential, one-on-one contact with BIAK staff to help you identify your needs and available resources.
Contact information with support groups
Access to brain injury support/education materials
Strategies for coping with common brain injury and how to help in recovery
Technical assistance in starting support groups
Assistance in finding counseling support
For more information, or a confidential consultation, call BIAK, toll free 1-800-592-1117.